It's Nymeo's Labor Day Auto Loan Event
If you've had eyes on a new or used car, now's the time to get it during Nymeo's Labor Day Auto Loan event.
Rates as low as 2.99% APR* on new or used auto purchases
Enter to win $500 Visa Gift Card**

No payments for 90 days*

Terms up to 84 months to fit your budget

Auto protection choices for your peace of mind
Auto-Buying Service

Save time, money and stress when searching for your next vehicle! We've partnered with local dealerships to provide the ultimate online auto-shopping experience. All it takes is a few quick clicks to browse vehicles by type, make, model and more.

Applying is Easy

Just complete the form below and one of our loan officers will be in touch! Or, give us a call at 855-436-4100, option 2.
*APR=Annual Percentage Rate. Minimum loan amount for a new or used vehicle is $5,000. Loans for vehicles with model years older than 2007 or with greater than 120,000 miles will require a 10% down payment. Our current Annual Percentage Rates (APRs) range from 2.99% to 17.99%. The APR and monthly payment amount for your loan will be determined by your creditworthiness, the age of the collateral, and the term of your loan. For example, for a $20,000 auto loan for a 2016 vehicle, with a term of 60 months at 2.99% APR, the monthly payment will be $359.73. Not all preapproved will qualify. Nymeo membership required. Rates and terms are subject to change without notice. 90 days without payments is a payment deferment. If you choose to defer payments for 90 days, the first payment will be due approximately 90 days from the date of funding. Interest will accrue during this payment deferment.
**Members who apply for an auto loan with Nymeo during the promotion dates of August 24th to September 30th, 2020 will be entered into a sweepstakes to win a free $500 Visa Gift Card. No purchase necessary to enter sweepstakes. Email marketing@nymeo.org to be entered into the sweepstakes by 11:59 pm on September 30th. Sweepstakes prize may be subject to tax withholdings. Sweepstakes drawing will occur on or before October 30th, 2020. Winner will be contacted by phone or email.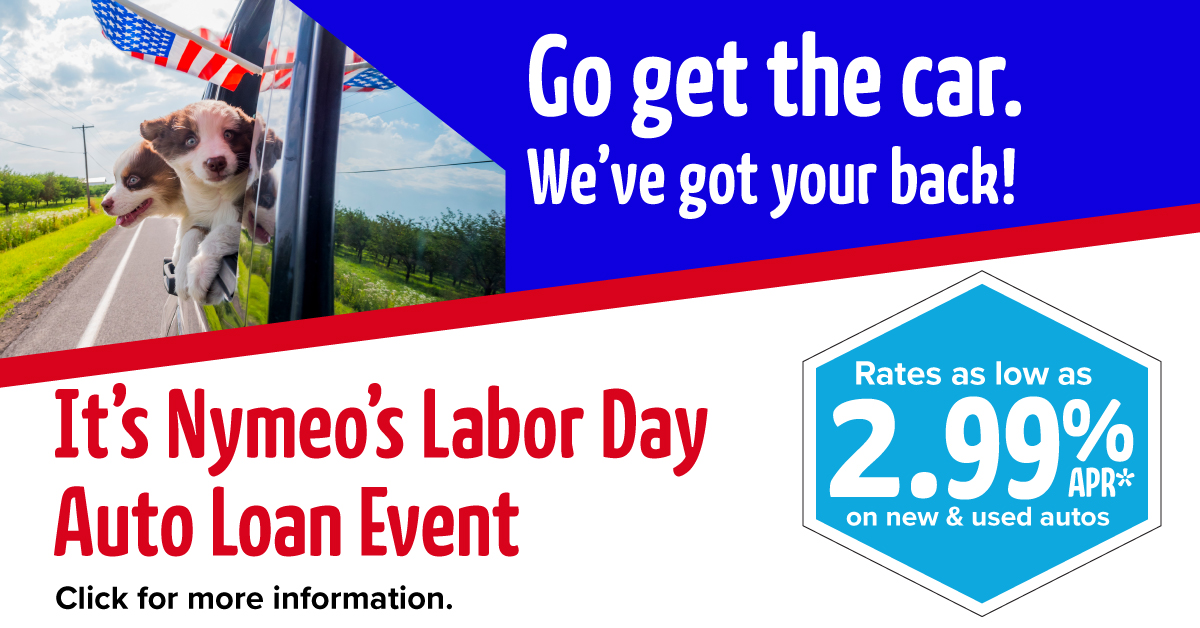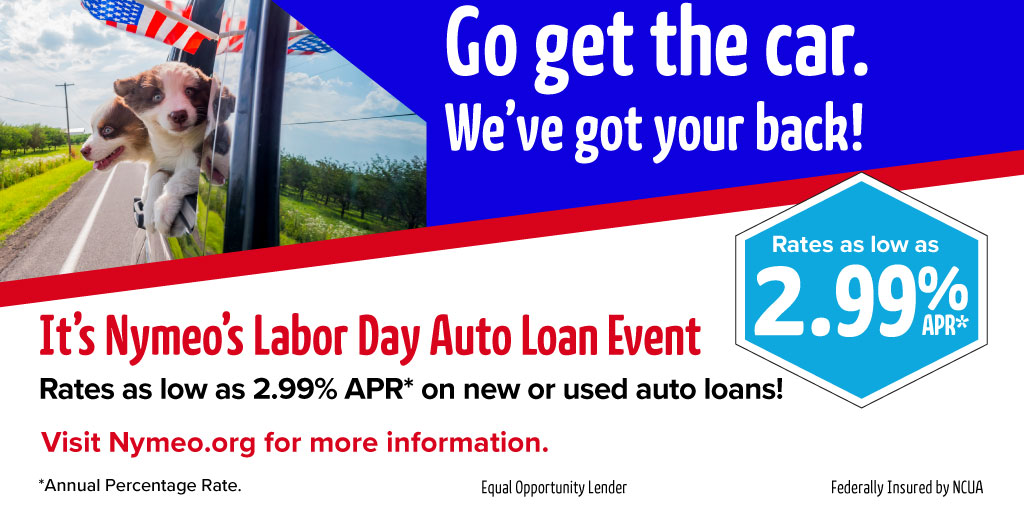 Go to main navigation