Start off the new year with a credit card that keeps giving back to you and works in your best interest – the Nymeo Visa® Credit Card. You'll save BIG with our small rates! With the Nymeo Visa® Credit Card, you'll enjoy no annual fees along with features such as warranty manager, auto rental insurance and more.
Plus Get Rewarded with Triple Points!*
With the Nymeo Visa Credit Card, you will get rewarded for purchasing everyday items and services such as our current promotion -- Dinners and Movies! Now until the end of March, Nymeo Visa credit cardholders earn triple reward points when using the Nymeo Visa Credit Card for Netflix and at restaurants, fast food or using food delivery apps such as Uber Eats, Door Dash, and Grub Hub.

Use our credit card for 30 times from now until March 31st, 2021 and get automatically entered to win Dinner and Movie for Four! **

Start off the year right! Reward yourself with a credit card that puts perks in your pocket!
How do I view my points and redeem my rewards?
Check your monthly statement for your rewards balance! Soon, you will be able to view your credit card rewards in online and mobile banking! Also, you can obtain your reward balances and redeem by calling 877-696-3658 for consumer cards or 866-679-8210 for business cards. You will need to provide the first 16 digits of the number shown on the bottom of your credit card statement as shown below.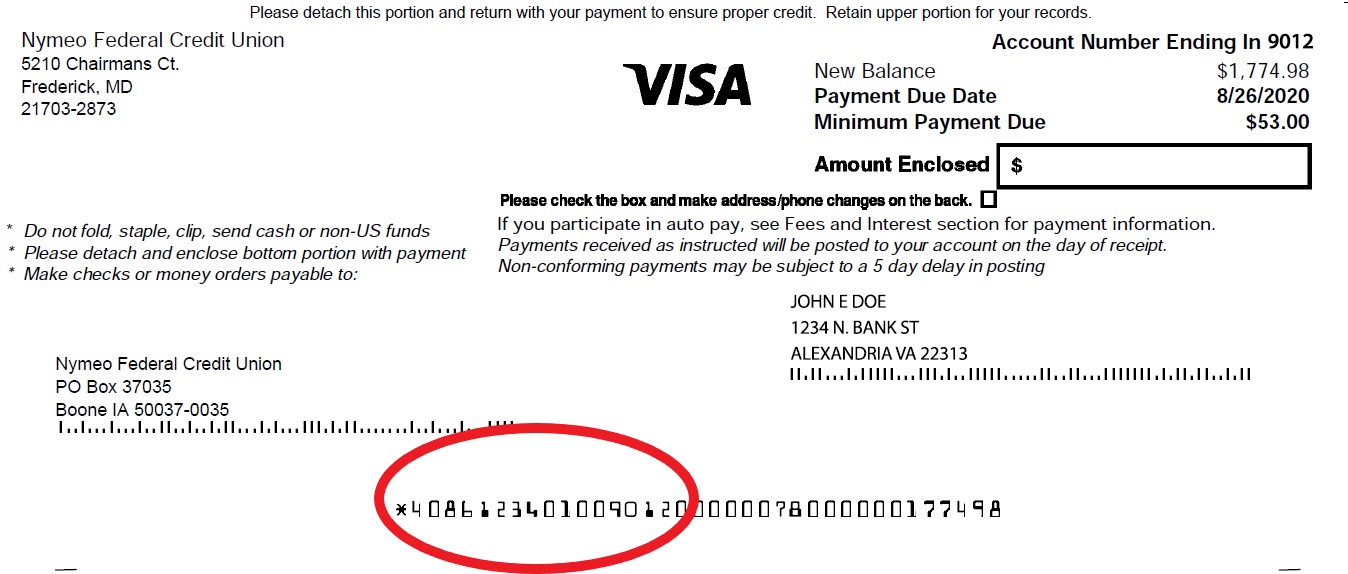 Learn more about Nymeo Credit Cards

Apply Today
*Earn 3X rewards on up to $1,500 worth of qualifying transactions made between January 1, 2021 and March 31, 2021. Qualifying transactions include Restaurants, Fast Food; Food Delivery Apps such as Uber Eats, Door Dash, and Grub Hub; Netflix. We do not evaluate whether merchants correctly identify and bill transactions, however we do reserve the right to determine which transactions qualify for the bonus rewards offers. Cash advances and balance transfers are not eligible for rewards. Allow up to two billing cycles for bonus rewards to post to your account. All purchases are subject to credit approval. Terms and conditions subject to change. Some restrictions may apply.

**Members who utilize the Nymeo credit card at a minimum of 30 times during the promotional dates of January 1, 2021 to March 31, 2021 will be entered into a sweepstakes to win four movie tickets and gift cards to a local restaurant. No purchase necessary to enter sweepstakes. Email marketing@nymeo.org to be entered into the sweepstakes by 11:59 pm on March 31, 2021. Sweepstakes prize may be subject to tax withholdings. Sweepstakes drawing will occur on or before April 30, 2021. Winner will be contacted by phone or email.
Go to main navigation