Attention Members!
We are Improving Alerts!
Nymeo constantly looks for ways to protect you and your money. Currently, members have the option of using Debit Card Purchase Alerts in both the Alerts widget and Card Management alerts in Nymeo Online Banking and the Mobile App. We have discovered that the Debit Card Purchase alert in the Alerts widget is not as timely and duplicated in Card Management, resulting in double notifications for some members.
To make it less confusing and more efficient, we will be disabling the Debit Card Purchase alert on November 12th. We ask members to make sure to turn on alerts in Card Management in online banking before this date.
If you have questions, please contact Nymeo at info@nymeo.org or send a secure message in online banking.
Card Management location in Nymeo Online Banking

Card Management location in the My Nymeo Mobile App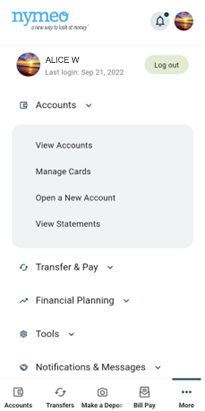 Go to main navigation