Three Financial To-Dos Before Traveling
May 23, 2023
If you are planning a get-away, there are steps you need to take before you set off for a holiday. Whether it's a short stay in your state or a three-month get-away in another country, if you are left with a frozen credit card and minimal cash, you will not enjoy your vacation. Here are three financial tips to take before you travel.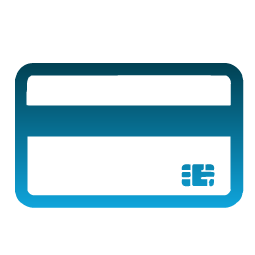 1. Contact Your Credit Card Company
Aside from letting your family and friends know where you are traveling and staying, you should also inform your credit card company. Let them know when you are leaving and returning. You may be able to do this yourself in online banking, but if you are not sure, call customer service directly.
2. Notify Your Financial Institution
If there is suspicion from frequent withdrawals from another country in your checking account, your financial institution could possibly freeze the account. Most financial institutions will reach out to you first either by text, email, or a phone call. To be safe, you should contact your bank or credit union and let them know about your travel plans. Again, most online banking platforms should allow you to do this yourself.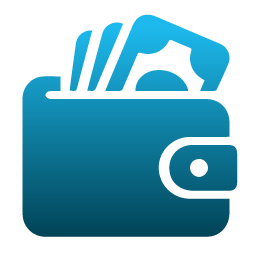 3. Have Cash On-Hand
Although you don't want to pay for everything in cash, having a reasonable amount of cash is handy and reduces the risk of fraud or identity theft. Using cash can also help with budgeting and reduces the risk of losing a card that is linked to accounts that hold more money.
How to Notify Nymeo
If you are traveling outside of the United States, you will need to notify Nymeo of your travel dates and destinations. This is critically important if you plan to use your Nymeo Visa Debit Card or Nymeo Visa Credit Card because your card(s) may be blocked when you try to use it. Without knowing this information, it appears to our system that potential fraud is taking place.
You can notify us by submitting a travel notification in online banking. It's convenient, secure, and easy. Please give us 24-hour notice before you travel (excluding weekends).
Log into online banking
Visit the Accounts Tab
Visit Card Management
Choose the Cards You Wish to Place a Travel Notice
Add Dates and Location
If you need immediate assistance or are unable to submit a travel notification through Online Banking or our Mobile App, please contact us at 855-436-4100.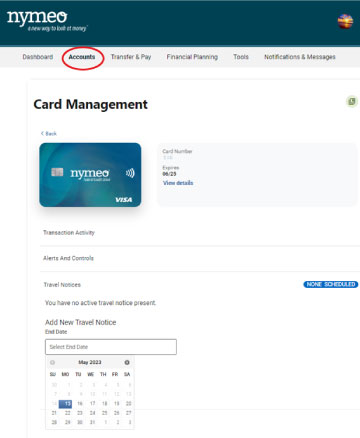 Category: Credit Cards & Loans