Online Banking
July 19, 2022
In today's world of financial uncertainty, it's a good idea to have control over your money – spending, saving or adding security. At Nymeo, improving our members' financial health is important to us.
Recently, we added features to our online and mobile banking that not only analyzes your spending but provides you with tools, so you can be on top of your finances, wherever you are. Check these tools out below:
See How You Spend with the Financial Wellness Tool
The Financial Wellness platform replaced the Budgets widget and Savings Goals widget. This area of online and mobile banking automatically assigns a Spending Category to your transactions. Now you can expand the view of spending beyond the general categories.
The Financial Wellness Tool also:
Displays the amount spent instead of just a percentage
Reviews any recurring expenses
Offers a Financial Health Assessment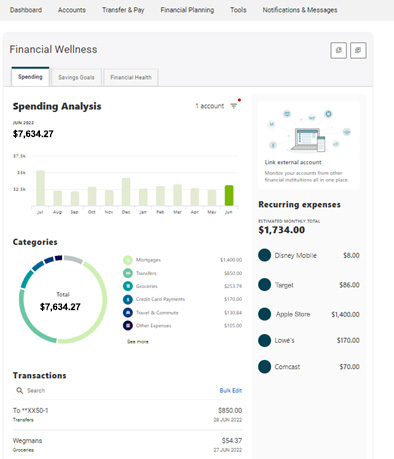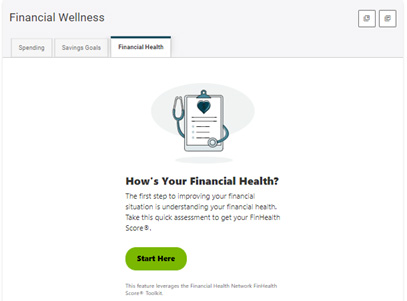 Added Security and Controls Using Card Management
The Card Management feature of online banking provides you with multiple functions to gain more control over debit and/or credit card use.
You now have the ability to turn debit and/or credit cards on or off within seconds. For example, if your card should become lost or stolen, you can use Card Management to turn your card off immediately to prevent fraud. Once your card has been recovered, you can simply turn it back on.
For added security, you also can limit yourself to debit and/or credit card use at specific merchants, set transaction limits, or only allow use at certain locations, which can help prevent card misuse. Additionally, you can block international transactions. Simply put: when your debit or credit card is being misused in a way you haven't designated, you'll receive a real-time push notification either by text and/or email.
Use Card Management to Control Spending
Another great perk of Card Management is that it can help control spending. You can create an alert when you hit a spending limit (or to prevent the account from being overdrawn) and then unlock the card when comfortable with spending again.
Keep in mind that both Primary and Joint (Authorized) Cards are displayed for both members. However, only the owner of the actual card number should register the card for Alerts and/or Controls. The display (see below) only shows the last 4 digits of the card, so you will need to know which card number is associated with the specific account.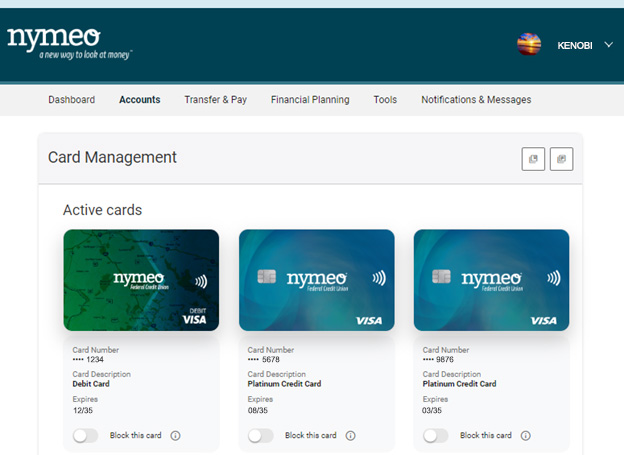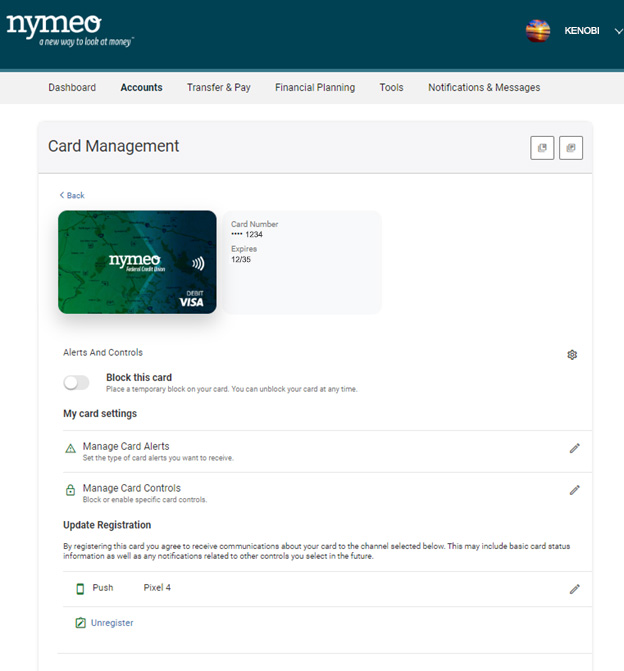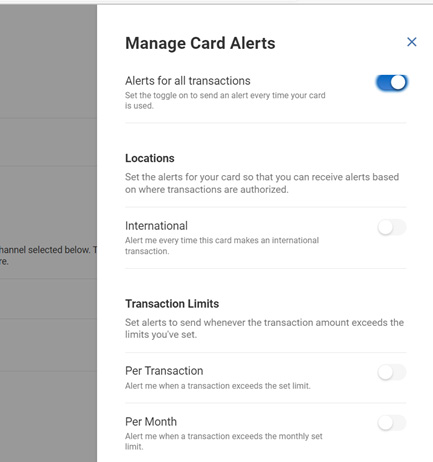 Financial wellness is not just about numbers. It is about knowing that you have control over your finances in multiple ways. Whatever stage of life or financial challenge you are currently in, Nymeo will continue to provide useful tools and resources so you can understand your personal financial information and be on top of it.
If you have questions and need further guidance about these tools, please reach out to us! We are happy to help.
Category: Online Banking